Blended yogurt is a mixture of different types of yogurt to get the best out of them. It usually involves adding fruit or honey, which makes it taste better. You can also blend your favorite fruits with plain yogurt for a perfect treat! Mixing yogurt is excellent for people who are lactose intolerant because it makes the dairy easier to digest. It is also a great way to get in some extra calcium in your diet.
Blended yogurt is often suggested as a healthy snack for kids because it tastes good and has lots of vitamins, minerals, and other nutrients. Many children do not like eating plain yogurt, but when you offer them a blended one – they will never notice that it is not ice cream or a milkshake.
In other words, blended yogurt is a mixture of flavor ingredients and other non-yogurt materials such as milk, fruit, vegetable oil, and other food additives with the addition of milk solids. In general, blended yogurts contain granules or shreds of sugar, while some may also have cocoa.
Some kinds of blended yogurts are drinks, while others come in bars or bites; some even come in puddings. There are so many choices on the market today that you're sure to find one that will be just right for you. Blended yogurt can also be made at home with your favorite fruits or extracts. This yogurt is easy to make, and the best part is that you are in control of all the ingredients that go into it!
Blended Yogurt Benefits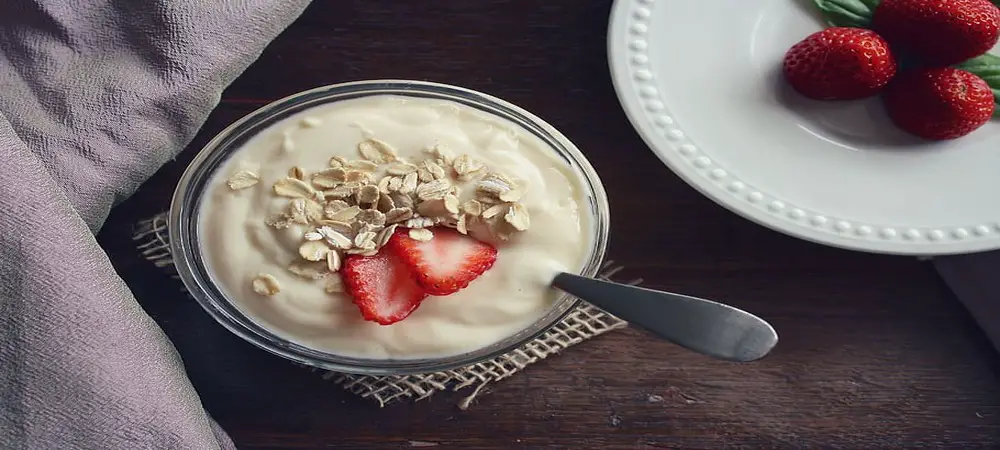 There are many benefits of blended yogurt, including improved digestion because blended yogurt contains live cultures. It's also full of calcium which is essential for bone health, and there are even some studies that suggest that calcium can help prevent osteoporosis. Blended yogurt is also full of protein; it's low in calories and fat-free!
Blended yogurt is also beneficial for people who suffer from lactose intolerance because they live cultures help improve digestion so they can enjoy their favorite foods without any discomfort. These live cultures also help strengthen the immune system and improve digestion. Some studies suggest that the live cultures found in yogurt can also help protect against cancer, heart disease, and diabetes.
Related Posts:
Blended Yogurt Recipe
This blended yogurt recipe makes about 3 cups of deliciously thick, creamy yogurt, which you can eat as is or use for many other recipes. You can use any milk you like, but I used coconut milk for this recipe because it's lower in saturated fats and calories than different types of milk.
Blended Yogurt Recipe – What You'll Need:
1 can full-fat coconut milk 3 cups plain yogurt Whey or Milk Powder (optional)
Directions :
Transfer all ingredients to a blender and blend on high until smooth. Pour into containers, cover, and chill in the refrigerator for at least six hours or overnight. This yogurt is best when served cold with some extra fruit or sweeteners of your choice. Enjoy!
You can store blended yogurt in an airtight container in the refrigerator for up to five days. It may separate while you keep it, but give it a quick stir before serving.
What is the difference between blended yogurt and regular yogurt?
Blended yogurt is acidic coagulated milk in which non-fat dry milk, cream, skim milk powder, or whey are added to enhance texture and flavor. It also contains fruit, sugar (usually), and any number of other additives.
Making blended yogurt usually involves cooking the dairy base to about 185°F then rapidly cooling to 110°F and adding the additive(s). The dairy mixture is then blended until smooth, cooled in a cold water bath, and inoculated with a starter culture.
On the other hand, regular yogurt is simply fresh coagulated milk that can be allowed to ferment further for a tangier flavor or not. Making regular yogurt usually involves heating the milk to 180-185°F, cooling it to about 110°F, and inoculating with a starter culture. The inoculated mixture is then incubated for several hours at 110°F.
What is the difference between Greek yogurt and blended Greek yogurt?
Greek yogurt is strained regular yogurt. Straining removes the whey, leaving behind a thicker, creamier end product. Making Greek yogurt usually involves heating the milk to 180-185°F, cooling it to about 110°F, and inoculating with a starter culture. The inoculated mixture is then incubated for several hours at 110°F. After the desired level of acidity has been reached, the yogurt is strained to remove the whey.
Blended Greek yogurt contains all the same ingredients as regular blended yogurt. It has added powdered milk and cream, giving it a thicker texture and richer taste similar to that of traditional Greek yogurt. This type of yogurt also has the same health benefits as regular blended yogurt.