It's not simple, but it can be done. Greek yogurt is a good source of protein and is excellent for digestion (it contains good bacteria). It can also aid in weight loss because it satisfies hunger better than other yogurts.
On Quora, It is one of the most frequent questions' How to eat plain greek yogurt. And the answer is pretty simple, As you like! There are no hard and fast rules to that. I believe it is a matter of taste and preference.
As the market is flooded with some of the best Greek Yogurt options such as Chobani Non Fat, FAGE Total Greek, Siggi's® 2% Strained Lowfat Yogurt, 365 by Whole Foods Greek Yogurt, Wallaby Organic Aussie Greek, Kite Hill Greek to name some, people often look for the ways to make their Greek Yogurt interesting.
"I started experimenting with my own toppings like sliced strawberries, granola, almonds, honey, and grapes. A few years later, nonfat plain greek yogurt took over the store shelves" According to Toby Amidor, (excerpts from The Greek Yogurt Kitchen)
It is evident that Flavored Greek Yogurt has recently dominated the market but you can always make your Plain Greek yogurt as much flavorful as you want with some quick additions.
From sterling strawberries to bossy blueberries and generous granola, the options are varied to consider. But it is all about your taste, preference and your lifestyle.
| | | |
| --- | --- | --- |
| Combination | Calories | Health Benefits |
| Greek Yogurt + Strawberries | 80 calories | Potassium and Manganese in Strawberries control blood sugar |
| Greek Yogurt + Honey | 180 calories | Excellent natural sweetener to satiate your sweet cravings |
| Greek Yogurt + Blueberries | 80 calories | More fiber, vitamins, and minerals in blueberries |
| Greek Yogurt + Granola | 270 calories | Rich in protein, micronutrients, and fiber |
| Greek Yogurt + Mixed Berries | 160 calories | An additional boost of antioxidants, and high fiber, improves blood sugar |
Top Plain Greek Yogurt Toppings Along With Their Calorie-Count
These combinations work best for yogurt in breakfast.
The key to eating this stuff, though, is using plain, unsweetened (even the sweetened ones have tons of sugar in them), and whole fat. The non-fat, low-fat, or flavored varieties are not suitable for you at all.
Start with a few tablespoons mixed into your favorite fruit smoothie. I like to stir some plain yogurt into whole-grain cereal (delicious over steel-cut oats) instead of using milk or adding it to homemade chicken noodle soup. My favorite use of this stuff is in a chopped-up banana and honey parfait; I make one every morning!
Some Of the Suggesting Toppings For Plain Greek Yogurt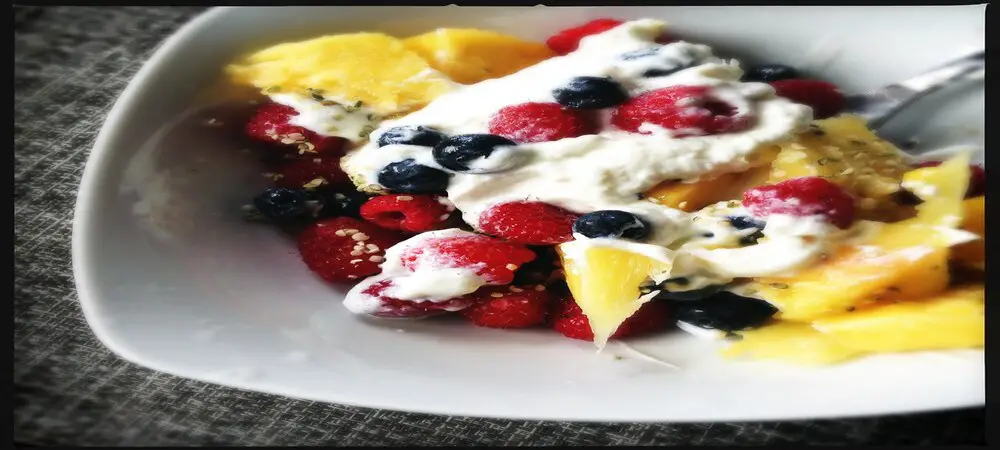 Greek Yogurt with Honey and Walnuts – Great on toast or as a dip with veggies, chips, or pretzels.
Dinner Salad Dressing– Much better than any store-bought dressing!
Homemade Whole Wheat Pizza Dough – Won't be the same without a nice sprinkling of feta!
Greek Yogurt Fruit Dip (with or without nuts)  – This may have to be in one of my parfaits.
Homemade Pita Chips with Yogurt and Herbs – This would work well if you put the yogurt on top instead of inside.
Cucumber Yogurt Dip – Great with pita chips.
Pumpkin-Oatmeal Bars – These sound delicious and healthy!
Lemon Yogurt Cake With Crumb Topping – I will have to try this one!
Bread Pudding With Berries- This sounds amazing, but the yogurt is optional (although why would you not want to use it?)
Greek Yogurt with Fruit, Nuts, and Honey (chia seeds optional)  – Use any fruit you like!
Peach Pie Oatmeal Parfait – Make this for breakfast or a morning snack. It's great as leftovers too.
Strawberry Spinach Salad With Champagne Vinaigrette  – You don't have to use this yogurt, but it sounds delicious with the fruit.
Chicken Fajitas With Greek Yogurt  – A great way to get protein in for dinner, and the yogurt makes a great topping.
Greek Yogurt Chicken Salad Sandwich – If you've never tried chicken salad on your sandwich, you're missing out.
Greek Yogurt Chicken Salad – You can use this same chicken salad on the sandwich above!
Strawberry Fruit Dip With Greek Yogurt and Fresh Herbs – I love dips like this.
Cheesy-Herb Scrambled Eggs with Diced Tomato – This is a great way to start the morning!
Chia-Berry Smoothie – Chia seeds are a whole superfood; you can find more info on those here.
Strawberry Shortcake With Greek Yogurt and Lemon Curd – A great dessert option. You can use lemon curd or homemade jam in place of the yogurt if you prefer.
Mixed Berry Parfait – This would be delicious with just strawberries.
Greek Yogurt Chocolate Pudding – I need to try this!
Grapefruit, Spinach, and Greek Yogurt Salad With Mint Dressing  – Another great salad idea.
Other Interesting Yogurt Uses in Recipes
Homemade Chicken Tenders – Make your own or use store-bought; either way, you won't need the yogurt.
Greek Yogurt Chicken – a great way to use plain Greek yogurt in place of sour cream, cheese, or mayo!
Raspberry Cheesecake Bites  – It's the raspberry season, so go ahead and buy fresh for this one!
Banana Peanut Butter Oatmeal Bake   – This is a great way to use up overripe bananas!
Lemon Yogurt Cake With Crumb Topping – Another lemon option, with the same crumb topping.
Related Posts:
Is it OK to Eat Plain Greek Yogurt Every Day?
Even if you are lactose tolerant, Greek Yogurt is easy to digest as the milk sugars in Greek Yogurt lead to a bacterial breakdown. Eating 1 cup of Greek Yogurt helps you meet your recommended dietary requirements of low-fat dairy products.
And you may always consider some variation by choosing some flavored greek yogurt options, if you wish too. After all, variety is the spice of life. So make your breakfast interesting with some flavored greek yogurts such as Chobani Strawberry Non-Fat, Chobani Greek Vanilla, Wallaby Organi Vanilla Bean and 365 by Whole Foods Blueberry.
Can You Eat Greek Yogurt Alone?
Yes! Greek Yogurt is a great healthy snack. It can even be eaten plain without any sweeteners, fruits, or nuts to make it more palatable as the yogurt itself has a very mild taste. You can also add a bit of salt and cinnamon over your yogurt if you like sweeter tastes for breakfast. Salt tones down the sour taste of the yogurt and makes its mild flavor a great snack on its own.
Fresh fruit or nuts can also be eaten along with Greek Yogurt as they make it more palatable.
So, eat your plain Greek Yogurt happily as you can reduce caloric intake by avoiding sweetened desserts, milk, sugar, and other high-calorie ingredients. Eat Greek Yogurt at least twice or thrice a week for longer life and to prevent aging issues.