From frozen yogurts to parfaits, Yogurt is ruling the dessert choices for its healthy offerings! A yogurt parfait comes with layers of delicious yogurt, frozen fruits, granola, and other toppings of your choice. It is a super healthy option that fuels your brain and body. Packed with natural sugars, protein, and healthy fats, Yogurt parfaits are the treats that everyone relishes. 
But, how many calories are in a parfait made with Yoplait Light yogurt and topped with granola before being poured over Total cereal bits?
According to USDA, 149 grams of Yogurt Parfait comes with 125 calories. 
As yogurt is a low-calorie food and it is low in fat too, it is one of the healthy options to enjoy in moderation. But, it is important to have an eye on the yogurt parfait that you are going to buy from the market. It may be a creamy yogurt with additional fat content or some added sugar to deliver a lip-smacking taste. 
Calories for a store-bought parfait comes out to be 350 calories and may contain around 35 grams of sugar, 66 grams of carbs and 100 mg of sodium. Sounds unhealthy? The disappointing fact is, you only get 10g of protein and 4 g of fiber. 
Related Posts:
What Makes Yogurt Parfait Unhealthy?
Depending on the ingredients, a yogurt parfait can be healthy or unhealthy as we have seen above. Usually, a lot of added sugar is found in the readymade parfaits to enhance their taste. While yogurt is a healthy and low-calorie food, to supersede its sourness many stores add a considerable amount of sugar. The toppings of granola further increase the calorie count. 
And on top of it, if the canned fruits dipped in sugar syrup are further added, the total calorie count can be terrifying. 
On the other hand, a homemade yogurt parfait that comes with low-fat yogurt and fresh fruit serving is undeniably a healthy choice. 
So, we can see how a parfait can be healthy or unhealthy depending on the ingredients used in them.
How To Make A Healthy Yogurt Parfait At Home?
It is simple and easy to create a healthy yogurt parfait at home. You need some simple ingredients and you are good to go! Take some plain variety of yogurt. I recommend Greek Yogurt because it has a thick consistency and richer texture that enhances the parfait flavor and presentation too. Using a runny yogurt may spoil the show. 
Get hold of some fresh berries such as blueberries, strawberries, and even cherries that taste delicious. If you are not a berries-lover, you may choose other fruits like apple, mango, banana, etc but it will also enhance the calorie count of your parfait.
Now create a layering of fruits and then add a layer of yogurt. repeat the process to create another layer. Now top it up with a low-sugar cereal or natural granola. 
Your delicious low-calorie parfait is ready to enjoy! 
Is Yogurt Parfait Good for Weight Loss?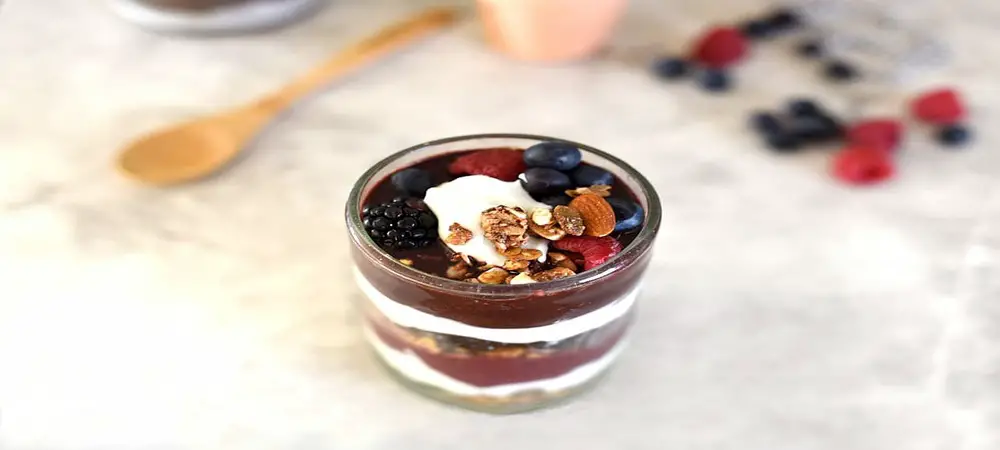 Absolutely!  It's filled with low-calorie ingredients that don't have much sugar, fat, or sodium.  And since the yogurt is flavored with fruit on the bottom and not artificial ingredients added to the top, it also tastes great.   To me, this means I can eat without gaining weight so long as I control portion sizes.  I can eat it as a snack or dessert and not worry about going over my calorie budget for the day.
How many calories are in a fruit parfait with yogurt?
That depends, but assuming the yogurt is low-fat, and you have 1/2 cup of strawberries in your parfait, it's hard to imagine how you could get over 160 calories.  It makes fruit parfaits one of my favorite.
How much yogurt should I eat a day to lose weight?
If you want to lose weight and think of yogurt as a snack, aim for about 100 calories per serving.  It means 1/2 cup or one container (5.3oz.).  If you have Greek yogurt instead of regular yogurt, it is closer to 150 calories per serving.