It is one of the most common questions I get asked. Yogurt, a fermented food made with milk and added "good" bacteria (usually), has been a staple in many diets for thousands of years. Its health benefits may include low calories, high protein content, and probiotics that help keep the gut healthy, regulate immunity and blood sugar levels, and promote a healthy digestive system.
So yes, yogurt is good for us, and it's great to have it in our diet. But what to do if I am lactose intolerant?
Is it Possible to Make Yogurt Without Lactose?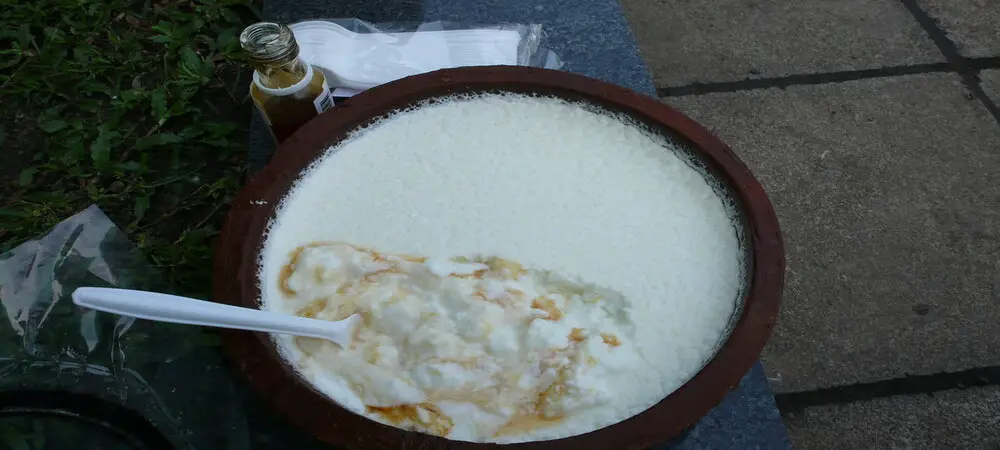 The answer to the question – "Is it possible to make yogurt without lactose?" is a big YES. You can make it, taste great, and have all the benefits of yogurt-like properties. But, here comes the crucial part – you will need some lactose-free milk or whey protein as an ingredient. It is the most accessible and most affordable way to get a hold of it. Keep reading; I will tell you why.
Related Posts:
I started making my yogurt 7 years ago, when I slowly became lactose intolerant (actually lactose sensitive). It was not a big deal to me because I was used to eating greek style yogurt quite often, and I enjoyed it a lot.
So, when I realized that if I wanted to continue eating yogurt (I had my doubts), the only way to do it was to make it myself, I started experimenting.
Nowadays, almost all of my friends know that I make my yogurt, but most of them ask me: "how can you make yogurt without the help of starter cultures?"
I always answer that question using a recipe and method created by Donna Gates as described in her book "The Body Ecology Diet. "
I am not going to lie; it is not a very convenient way to make yogurt due to its long preparation time. But once you have the ingredients ready, it is not a big deal to make an amount that will last for 2-3 weeks. And of course, it is pretty cheap 🙂
There are many theories (and experiments ) about making yogurt without the help of starter cultures. I tried most of them, but the one described below had been my favorite until now.
Please remember that the yogurt will take about 12-24 hours to be ready, so you need to plan.
Please don't expect the yogurt to taste like store-bought commercial varieties as the fermentation process changes the taste and yogurt becomes a bit sour. You may add any flavour or fruit of your choice to make it more palatable.
If you use whey protein (as I do), I recommend using natural grass-fed cow's milk that is not heat processed.
Unfortunately, most commercial yogurts are made using heat-processed milk, which means the whey protein content is lost as heat processing denatures it. If you use store-bought milk, I recommend buying organic because most commercial cows are fed with GMO grain.
INGREDIENTS:
1 cup of grass-fed cow's or goat's milk ( but if you can find raw whey protein powder, you will use only 1/4 cup)
1/2 tablespoon of unflavored gelatin (bought in a health food store, NOT the one that comes in Jello packs as it is highly processed and most likely contains GMO ingredients)
Raw honey or maple syrup (optional)
DIRECTIONS:
Place the milk into a non-metal bowl and mix in the gelatin for about 1-2 minutes until completely dissolved.
Place it into your dehydrator (no need if you have a yogurt maker, as I explain below) at 112F degrees or 43C for 8-12 hours until it becomes thick and congealed but still liquidy, like yogurt.
If you don't have a dehydrator, you can use your oven but not turn it on. Just preheat the oven and place the yogurt in there with the door closed for about 6-8 hours until it becomes thick.
Once the yogurt is cooled down to room temperature, transfer it into your refrigerator to continue cooling overnight.
If you plan to use it the next day, you can leave it in your dehydrator overnight.
Add vanilla extract or raw honey if desired, mix well until dissolved and place into yogurt containers.
Refrigerate until ready to eat. Keeps about one week in the fridge.
NOTES:
If for some reason, it becomes very sour or acid, then you can always add more gelatin (I usually do it when I plan to use it the following day) and re-dehydrate a bit longer.
If you are not planning to use your yogurt within 2 weeks or so, you should add some powdered probiotics like Flora strains as they will help make sure that your yogurt keeps for a long time without becoming sour. You can find them in any health food store near the vitamin section.
If you cannot find powdered probiotics, add 1/4 to 1/2 of a packet of kefir grains (not the powder, but the actual grains ) as they will colonize and keep it for a more extended period too.
If you plan to use the yogurt as a starter for future batches, keep it in your refrigerator after 24 hours of cooling. If you are not going to do this, feel free to make one batch and use it all up within 1-2 weeks.
What is a Lactose-Free Substitute for Yogurt?
I made a lactose-free version using a can of coconut milk, and it was pretty delicious, full of good probiotics. But the problem is that you need to use it within about 3 days because refrigeration will destroy those probiotic organisms.