When you have bananas that are rapidly turning brown in the fruit bowl and strawberries that have been sitting, neglected on the counter for days, making a smoothie is one of the easiest ways I know how to put them to use.
When it comes to smoothies, the first thing that strikes the mind is – Yogurt! What should I do if I don't have yogurt in place? Shall I skip the idea of making smoothies? Or should I run round to fetch a cup of yogurt?
Well, the answer is, you can make a palatable smoothie even without a yogurt.
Before we check out the simple recipe for making bananas and strawberry smoothies without yogurt, let's check out best smoothie makers to make your task of making smoothie – a breeze!
Related Posts:
In this blog post, we will discuss how to make a strawberry banana smoothie without yogurt:
A quick tip for Banana: –
When the bananas are fast turning brown, pop them into a freezer and store at least 2 days. In two days, when they emerge out of the freezer, you will be able to blend them in smoothies like this one without any lumps.
Strawberry Banana Smoothie Recipe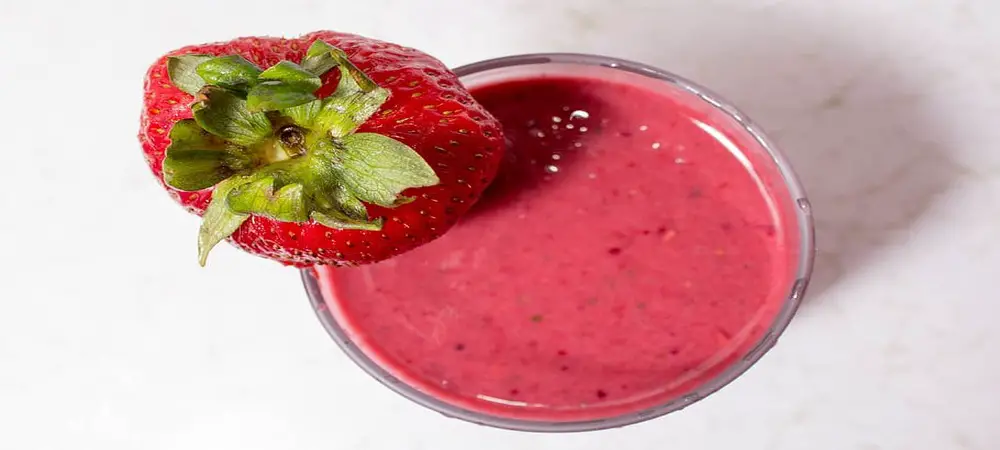 Strawberry and banana is a fantastic combination that offers you excellent health along with palatable taste:
Ingredients:
1 cup drumstick leaves or spinach (Palak)
1 cup strawberries
A couple of mint leaves
2 bananas
3/4 glass water
2 teaspoons sugar juice of a lemon juice of a lime small pinch salt and red food color for garnish
Method:
Remove the stems from the drumstick leaves and wash them thoroughly.
Strain the drumstick leaves in a colander.
Squeeze out excess water, if any, with your hands.
Take all the ingredients in a blender jar.
Add 3/4 glass of water to it.
Blend for about 2 minutes till smoothies are frothy and smooth.
Check the consistency by running a spoon through them.
If there are lumps, blend for some more time until smoothies are entirely smooth and free of lumpy bits.
Pour into glasses and serve immediately garnished with a bit of pinch of chopped strawberry, mint leaves, red food color (optional), and lime juice.
Add sugar according to your taste – the sweetness in this particular recipe is derived from fruits.
And if this is not enough, we have other smoothies without yogurt that you may like:
Sweet Potato Spinach Green Smoothie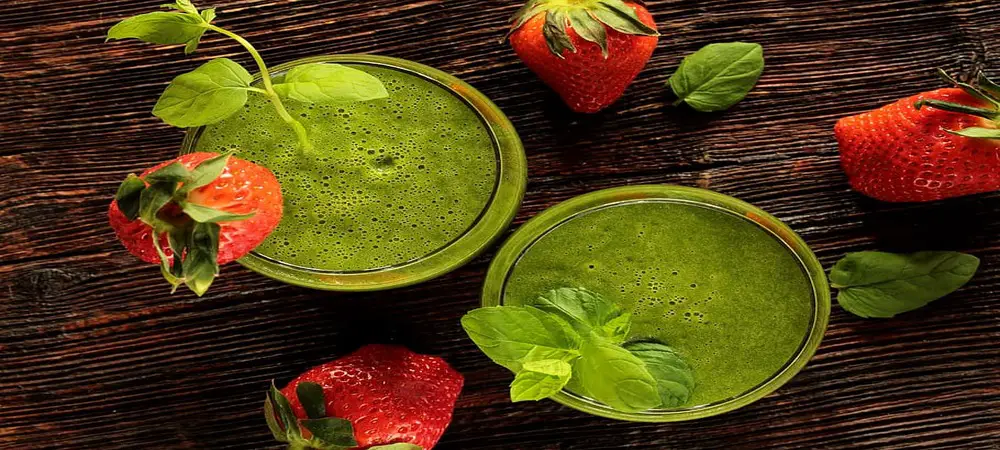 Sweet potatoes are the powerhouse of vitamins and minerals. The goodness of spinach is known to everyone. So enjoying a smoothie using these super healthy ingredients delivers excellent health benefits.
Ingredients
½ Sweet Potato, cooked, peel off
1 cup Coconut Milk
1 Banana
1 cup Mango, frozen
2 handfuls of Spinach
½ teaspoon Cinnamon
Hemp Hearts, optional
Ice, if needed
Method
Cook your sweet potato to turn it soft. Take a fork and puncture the skin. Put it under microwave for 5 mins.
Peel the sweet potato once appropriately cooked. Add all the ingredients to a blender.
Blend till all the ingredients are combined swiftly.
Add ice, if you want to enjoy a chilled smoothie
Beetroot Apple Carrot Pineapple Smoothie
Beetroot and pineapple together add a delicious flavor to any recipe. This smoothie also helps in detoxifying the vital organs of our body. Here is the recipe:
Ingredients:
1 peeled beetroot
1 cup pineapple
2 roughly chopped carrots
1 small diced apple
Few drops of lime juice
Method
Boil the beetroot and carrot till it turns mushy.
Cooldown the carrot and beetroot.
Add all the four – beetroot, carrot, apple, and pineapple to the blender
Blend till it turns into a smooth mixture
Add few drops of lime juice
Sweet Corn Tomato Strawberry Smoothie
It is another delicious smoothie on our list that is full of taste and energy. Here we go:
Ingredients:
2-3 tomatoes
1/4 cup of boiled sweet corn
8-9 strawberries
Few drops of lime juice
1 tsp of sugar
Method
Pressure cook the tomatoes, strawberries, and corn for 2-3 minutes
Grind it once it cools down
Use a strainer to separate the seeds and corns cover.
Add lime juice and sugar as per taste.
Smoothies are the first love when it comes to health and taste. People often add yogurt to smoothies to enhance its nutritional value. If a cup of yogurt is not handy, you always have an option to order one here. But that should not stop you from cherishing your favorite smoothies. These smoothie recipes are simple and handy and hence worth trying.
Do comment to share your favorite smoothie without yogurt recipe!